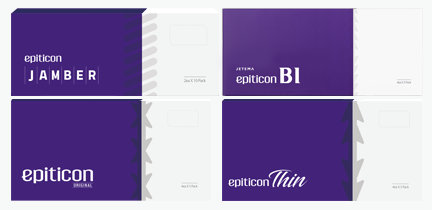 PDO Thread,
epiticon®
New lifting thread developed with patented technology of multi-dual acting cogs
epiticon® Original

Fixed-type thread having dual-acting cogs with patented design.

epiticon® BI

Bi-directional thread for uniform and natural contouring.

epiticon® Thin

Thin thread for more accessible and comfortable lifting.

epiticon® JAMBER

Next-generation coiled thread, providing a collagen framework.
Products Specification
Products
Cannula Size /
Type
Cannula Length
Thread Length
USP
epiticon® Original
18G / L Type
92 mm
187 mm
# 2-0
19G / L Type
60 mm
155 mm
# 3-0
epiticon® BI
18G / L Type
100 mm
185 mm
# 2-0
19G / L Type
80 mm
162 mm
# 3-0
epiticon® Thin
21G / A Type
80 mm
150 mm
# 4-0
epiticon® JAMBER I
27G / B Type
50 mm
205 mm
# 5-0
epiticon® JAMBER F
21G / B Type
60 mm
371 mm
# 3-0
epiticon® JAMBER F
23G / B Type
60 mm
353 mm
# 4-0
epiticon® JAMBER T
21G / L Type
60 mm
145 mm
# 3-0